Title
General English - Special Course in English (SCE)
Description
  The Special Course in English for Non-Native Speakers is specially designed for people who need, or will soon need to, use English as a foreign language in their daily life. It is also designed to be used by people working in all walks of life vis-à-vis the focus on the four basic language skills. What the 15-level SCE course does provide is a wide range of settings and situations in which one can practice and improve his/her communication skills in English to become a more confident and fluent user of the foreign language.
Course Levels & Certificates:
SCE introduces the English world via covering, expanding and practicing different English Language skills vis-à-vis the following: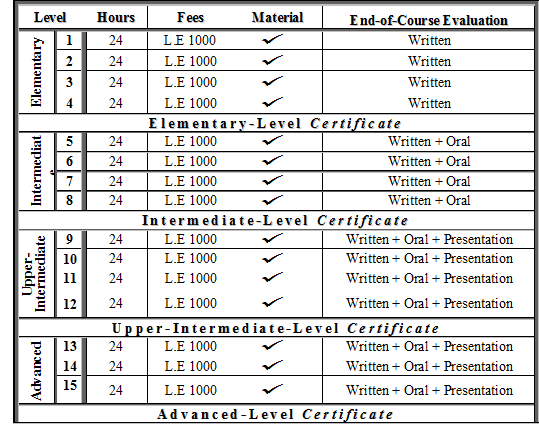 Course Participation:
• SCE courses start with a minimum of 10 and a maximum of 25 applicants per class after passing the Special Placement Exam (Placement test for new students – 200 LE) • Otherwise, the applicant starts Level One directly.
Tutor
Certificate at the end of the day
All delegate will be issued a certificate of attendance from :
The
Arabic British Academy for Training and Human Resources Development
(ABAHRD)
and
The
Egyptian British Education Association UK
(EBEA)